Robb Topp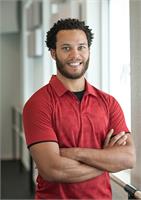 Robb Topp instructs the following:
Safe and Strong includes a variety of gentle muscle strengthening and stretching excersises to both tone and relax incorporating chair exercises for weights. This is a non-aerobic class, great for all levels.




This simple, yet challenging, full body workout will build your strength and stamina, increase your total body mobility and stability, all while strengthening your core. The TRX suspension system challenges both your core stabilizers and all major muscle groups. TRX is a fun and invigorating workout that is appropriate for all skill and fitness levels and no prior experience is necessary.




This class is designed to help you restore mobility, fasical integrity, provide decompression and connective tissue health that allows you to recover effectively. This means moving from a place of resilience, free of pain, and movement restrictions. No matter how strong, powerful, fast or skilled you are, if you are always worn out, in pain or injured you are sacrificing your optimal potential. We can fix that!