Brian Hughes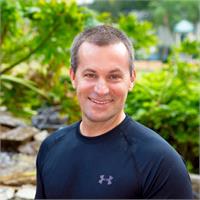 A fitness enthusiast since he was young, Brian has participated in many sports and found his love for fitness while surfing at a competitive level. Brian has been a certified Master Trainer through NFPT (National Federation of Professional Trainers) for several years and holds a unique Indo Board Balance Trainer Certification. Brian provides the one on one motivation you need to strive for greatness in fitness. His scope of practice includes all age groups from adolescent to geriatrics, pre and post natal and all functional levels from the novice to the advanced.
Brian brings his love for the water and his passion for fitness together through paddleboard fitness. Incorporating creative techniques which challenge balance and create strength along with stability.
Brian Hughes instructs the following:
Looking for an intense low-impact cardio workout? Then look no further - you'll find this in a Spinning class! Whether you are just beginning your fitness journey or you are a
seasoned athlete, Spinning will not only challenge you but it will change you. There are
many benefits to indoor cycling:
• It's easy on the joints.
• You are in charge of your own resistance and how fast you pedal.
• No complex routines or choreography.
• Classes are conducted in a positive environment - we motivate each other!




Whether you are a beginner, an avid fitness enthusiast, an athlete or just tired of the same routine, come try this whole new approach to exercise.... Our HIIT class is designed to deliver maximum total body results with a full body strength training and cardiovascular workout done in a group setting. This training uses a wide variety of interval training techniques, including lifting weights/objects, pulling, pushing, plyometrics, and running. This will help you lose body fat, increase cardiovascular efficiency, and increase strength. It resembles military basic training and addresses the full-body conditioning you are working toward.