Patricia Dore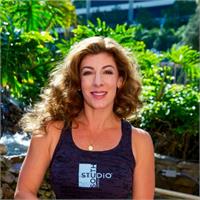 Patricia has been a certified personal trainer and group fitness instructor since 2000, beginning at Reebok in NYC. Her certifications include the National Academy of Sports Medicine, Crossfit L1 Certified Coach, American Council on Exercise, Aerobics and Fitness Association of America, and Functional Movement Screening/FMS. In 2004, she founded BodyElite, a group exercise methodology combining dance, Pilates, yoga, and resistance training, and became a continuing education provider for fitness professionals.
Patricia has competed in 5 NPC bodybuilding competitions, beginning at the age of 40 and finishing with a national placing of 3rd in Over 40 and 4th in all ages. Originally Patricia was a professional dancer based in NYC, her 17-year career spanning Broadway, contemporary and ballroom. She was the US Professional Rising Star ballroom champion in 2000. Her choreography work for stage and TV has earned and Emmy and a Telly award and she continues to choreograph for local charities in Sarasota.
As a new mom, Patricia understands and specializes in body transformation and customizing workout programs for each unique individual. She is also pre-and post-natal certified.
Patricia Dore instructs the following:
Circuit Training
This circuit style class incorporates strength and cardio into one high-impact workout that varies each session. You will target all muscle groups for a full body training session.
YogaZen
Relax your mind and release your tension and anxiety in this 45 min mindful, meditative, gentle yoga class
Yoga
Synchronizing breath with movement through a series of basic poses and sequences. The flow is designed to develop balance, build strength, and increase flexibility. Class is appropriate for all levels of yoga experience.